Welcome
A criminal lawyer since 1981, Charles Barhydt is an experienced and tireless defender. With over thirty years of practice exclusively in criminal law, he possesses a vast amount of experience and has effectively defended individuals charged with every type of criminal offense, including: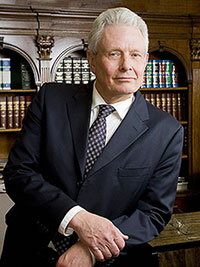 All types of Driving offenses including:
- Impaired Driving
- Over 80
- Refusal to take a Breathalyzer
- Dangerous Driving
- Criminal Negligence
Assaults (Domestic, Sexual, Aggravated, and other Assaults)
Drug Related offenses (Possession, Trafficking, Importing, Manufacturing)
Mental Health Related offenses
Firearms and other Weapons Related offenses
Thefts and Frauds
Murder, Attempted Murder and Manslaughter
Youth Criminal Justice Act offenses
Bail Hearings and Bail Reviews
A criminal conviction or finding of guilt can have a tremendous impact on your family, career, personal life and even your ability to travel abroad. Mr. Barhydt is available to work alongside you at all stages of the criminal court process, including bail hearings, trials and appeals. By contacting Mr. Barhydt, you will be provided with an aggressive and experienced criminal defence lawyer.
Contact Us
Charles N. Barhydt, Barrister
1199 The Queensway
Toronto, ON M8Z 1R7
132 Mill Street
Georgetown, ON L7G2C6
Phone: 416.960.0049
Fax: 647.748.0490
Email: charles@barhydtcriminallaw.com